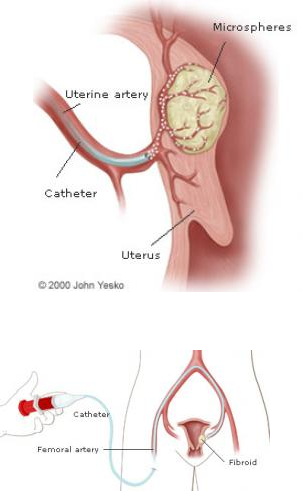 Uterine fibroid embolization (UFE), also known as uterine artery embolization (UAE), is performed by an Interventional Radiologist, a physician who is trained to perform this and other types of embolization and minimally invasive procedures. It is performed while the patient is conscious, but sedated and feeling no pain. It does not require general anesthesia.
The Interventional Radiologist makes a tiny nick in the skin in the groin and inserts a catheter into the femoral artery. Using real-time imaging, the physician guides the catheter through the artery and then releases tiny particles, the size of grains of sand, into the uterine arteries that supply blood to the fibroid tumor. This blocks the blood flow to the fibroid tumor and causes it to shrink and die.
Fibroid embolization patients frequently go home the same day. Pain-killing medications and drugs that control swelling typically are prescribed following the procedure to treat cramping and pain. Many women resume light activities in a few days and the majority of women are able to return to normal activities within 7 to 10 days.
UFE Facts
On average, 85-90 percent of women who have had the procedure experience significant or total relief of heavy bleeding, pain and/or bulk-related symptoms.

The procedure is effective for multiple fibroids and large fibroids.
Recurrence of treated fibroids is very rare. Long-term (10-year) data show UFE to be very effective with a very low rate of recurrence. 
UFE Effects on Fertility
There have been hundreds of healthy pregnancies following uterine fibroid embolization; however, prospective studies are needed to determine the effects of UFE on the ability of a woman to have children. One study comparing the fertility of women who had UFE with those who had myomectomy showed similar numbers of successful pregnancies. However, this study has not yet been confirmed by other investigators.
Less than two percent of patients have entered menopause as a result of UFE. This is more likely to occur if the woman is in her mid-forties or older and is already nearing menopause.